Image Edit.
Customers have multiple options to edit their images including adding effects, image vectorization, white color removal and many more to fit their customization needs. They can upload images of various formats and upload artwork from social media channels.
Multiple File Format.
Customers can upload images or graphics in any format such as png, svg, pdf, jpeg and more.

Upload from Social media.
Allow customers to import photos and artwork directly from social media channels such as Facebook and Instagram.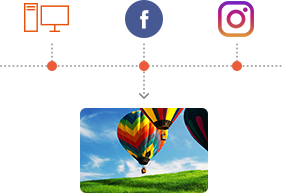 Low Resolution Warning.
Users will get auto-warning when they upload a low resolution image. They also have option to checkout or not with the image.

Vectorize Image.
Give your customers the option to convert their full color image to 1, 2 or up-to 8 color images to fit the print method chosen.

Auto Converted Image.
Depending on the substrate chosen by your customer, the upload image is auto converted to grayscale or black & white.

White Color Removal.
Give your customers the option to remove white color from the background, remove all white, or only white border for sticker cut.

Any Color Removal.
You customers can remove any color from the image simply by clicking on that color on the photo.

Image Effects.
Customers can give Instagram like filter effects and various shapes of mask effect to their uploaded images.